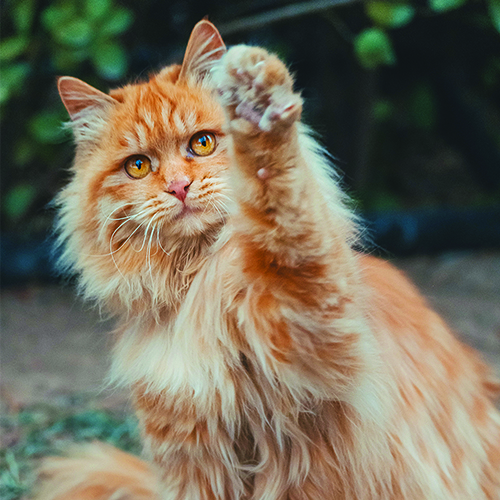 From Kitten to Adult: The Transition of Your Cat's Diet
If you are a committed cat parent, you may strive to provide your feline child with the best care possible. In your journey as a cat mom or a cat dad, you get to experience every bit of your fur baby's life stages from kitten to adult, and you need to be well-prepared to cater to all its needs throughout this transition. Out of all aspects of a cat's growth, the evolution of its dietary needs plays a crucial role. In this article, we will provide you with a comprehensive guide on the transition of your cat's diet according to its age.
Why Does a Cat Need a Diet Change as It Grows?
Just like humans, cats also require a diet transition along with their growth to fulfil their nutrition needs. Like any other mammal, kittens start their diet with mother's milk and move on to solid food in a span of weeks. People often adopt kittens that have already started on solid food, leaving their infant days to be with the mother cat, feeding on her milk. It is crucial for them as mother's milk provides them with the necessary nutrients to boost their immune system. However, once they start nibbling on solid food, it becomes your responsibility to provide them with sufficient nutrition to support their growth. 
Compared to human babies, kittens grow much faster, and protein, fat, caloric content, amino acids, vitamins, and minerals are vital for their growth and overall physical well-being. However, these needs change as a kitten grows into an adult cat, and you need to cater to its changing dietary needs accordingly. Typically, around one year of age, a cat's growth rate slows down, and it is the ideal time to shift to a new diet as a kittenhood diet may not be sufficient to fulfil its nutrition requirements further. 
Keep Track for a Smooth Transition
A cat's diet transition is a slow process that should be done in a timely manner in order to avoid any digestive complications. Once your cat reaches adulthood, which is around 10-12 months, you can slowly cut down on its kitten food intake. As mentioned before, kitten food is rich in calories that support growth, and a cat that has passed this growth phase does not require all that extra calories. However, certain large breeds, such as Maine Coon may still need a high-calorie intake as they continue to grow until 18 months in general. 
The transition of your cat's diet can include many varieties of food, such as wet food, dry food, and homemade raw food. Ideally, you can facilitate this transition over a period of seven days. In the beginning, you may add 75% of the kitten food mixed with 25% of adult food and observe how your cat reacts to it. Gradually, you may add more adult food and completely cut off on kitten food by the end of the seven-day period. In this process, you need to pay close attention to how your cat's body reacts to the new diet and whether it experiences any digestive issues such as loose stools or vomiting. If you find out that your cat is able to consume adult food with no such issues, you can go ahead with the new diet and watch your fur baby thrive. 
Common Issues Cat Parents Face
There is a set of common issues some cat parents face during the transitioning period of a cat's diet. Knowing them beforehand will make it easier for you to monitor how your cat reacts to its new diet and avoid complications. 
1- Finicky Eating
Cats can be quite picky when it comes to their food. To encourage acceptance of new food and enhance their appetite, you can begin by slightly warming the food or adding some low-sodium broth to enhance its aroma and taste. You can also try different textures, from wet to dry and various brands of cat food in Singapore. Always remember patience is the key. 
2- Digestive Issues 
It is common to come across upset tummies, loose stools, and vomiting during a diet transition. If you see your cat experiencing these, you may slow down the transition process or simply return to its previous diet temporarily until its stomach is settled. If the issues persist, you may consult a good veterinarian on adding probiotics or digestive supplements along with the transition process to enhance your cat's digestion. 
3- Refusing Adult Food 
Some cats outright refuse to eat the new food, growing out of their kittenhood. If your fur baby shows any signs of this, you can try adding different flavours, textures or switching to different cat food brands. Consulting a veterinarian and following a prescription diet can also help minimise this issue. 
How to Maintain a Healthy Diet?
Consistency is the key when it comes to maintaining a healthy diet for your cat. Once your cat has successfully completed the transition process, you need to stick to a healthy adult diet and monitor and evaluate its dietary needs according to its age and health conditions. As much as you love to spoil your feline companion, it is a must that you avoid giving it human food such as biscuits, cakes, cow's milk, rice, and other carb-rich or sweet items to keep it healthy. You can always reward your cat for learning little tricks or good behaviour with creamy or solid treats specially made for felines. 
To Sum Up
When changing your cat's diet, a gradual transition is vital to its overall health and well-being. By following the steps outlined in this article, you can minimise the potential challenges and help your cat adjust to their new food smoothly. Remember, patience and consistency are the most important factors throughout the process. By ensuring your cat maintains a healthy diet, you are contributing to its long-term happiness and quality of life.
Where to Buy Cat Food?
If you are looking to buy quality cat food in Singapore, SG Pets is the way to go. We have all kinds of cat food varieties from kitten to adult, dietary supplements, and a vast range of cat food brands at our premium pet store in Singapore to fulfil all of your cat's dietary needs. Make the switch today and help your kitten become a healthy adult with the best cat food in SG. Order online or visit our store to find all cat supplies under one roof.